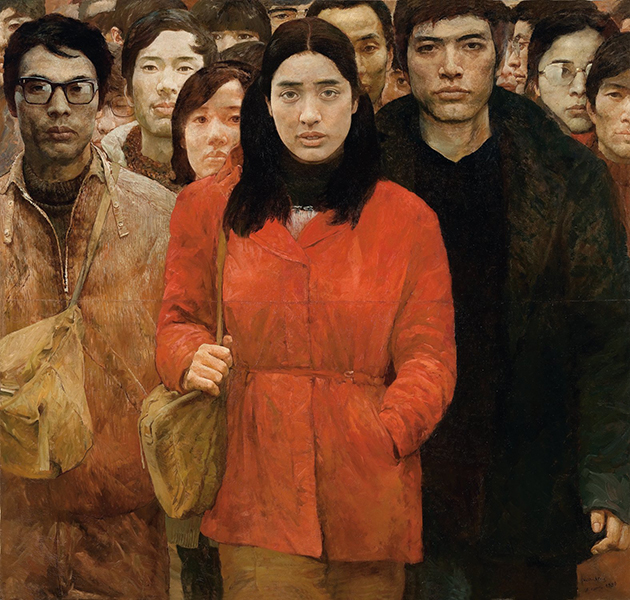 The Third Generation
Artist:He Duoling Ai Xuan
Oil on canvas, 180x190(cm), 1984
He Duoling was born in Sichuan, Chengdu in 1948. The hardships that started in his youth and continued into his life became the source of his artistic creation. He enrolled in the first class of the Oil Painting Department at Sichuan Fine Arts Institute after the university resumed its college entrance examinations in 1978 and graduated with a master's degree in 1982. He currently lives in Chengdu. His representative work, Spring Wind Has Awoken (1981) was created as his capstone work at university and has proven extremely influential. He was considered the leading artist of the Scar Art movement in China and served as a pioneer of Lyrical Realism in Chinese contemporary art.
Ai Xuan was born in Jinhua, Zhejiang in 1947. He graduated from the Fine Arts School Affiliated to China Central Academy of Fine Arts in 1967 and began working in an oil painting studio at the Beijing Painting Academy in 1984. Ai is one of the most influential artists in Chinese realism; the paintings from his "Tibetan Series" serve as his most renowned works. Together with Wang Yidong and Yang Feiyun, Ai co-founded the "Beijing School of Realism," which was later renamed to the "China School of Realism" in 2005.
The Third Generation (1984) is a group portrait of a new generation of intellectual youths after China's reform and opening-up. The two artists chose friends who they thought represented the spirit of the "third generation" as models; they include: Zhai Yongming, Liu Jiakun, Zhou Chunya, Zhang Xiaogang, and many others. The main figure stares directly at the viewer, leaving a strong visual impact.