Zhou Chunya: The Splendours of the Southeast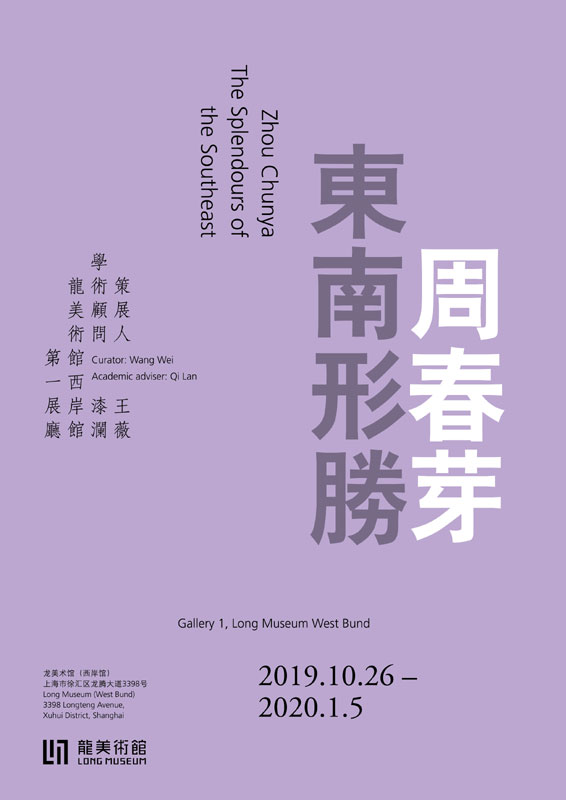 Dates:

2019.10.26—2020.1.5
| | |
| --- | --- |
| Artist | Zhou Chunya |
| Curator | Wang Wei |
| Academic Advisor | Qi Lan |
| Organizer | Long Museum West Bund |
The Long Museum is pleased to present Zhou Chunya: The Splendours of the Southeast, on view from October 26, 2019 to January 5, 2020. Curated by Ms. Wang Wei, the director of the Long Museum, and academically supported by Mr. Qi Lan, this large-scale solo exhibition of the artist Zhou Chunya in Shanghai displays his newest works----a series of paintings along with the original sketches and video documentations of the creative process, as well as an ensemble of representative pieces of Zhou's major series created between 1978 and 2013, drawn from the collection of Mr. Liu Yiqian and Ms. Wang Wei.
For many years, Zhou Chunya has always dedicated himself to researching and transforming traditional paintings, and recently the artworks of Wang Meng, one of the Four Painting Masters of the Yuan Dynasty, have become the focus of Chunaya's interest. The three series on display, Mount Taibai (quadriptych), Forest Grotto at Juqu (group paintings), and Cinnabar Hills in the Immortal's Sea (group paintings), are the experimental fruit of his study on Wang Meng. Based on the actual sceneries of the original sites of Wang Meng's paintings, these three series of artworks set up subtle intertextuality between themselves and Wang Meng in terms of artistic language. In Forest Grotto at Juqu (group paintings), Zhou Chunya borrows the typical tightly-packed composition of Wang Meng's namesake painting, strengthening the sense of form and structure. He clearly subverts the inward and reserved style of the literati with straightforward, willful and even naughty brushwork. Mount Taibai (quadriptych) is an autobiographical piece narrating the artist's personal history, and in a more important sense, an ingenious metaphor of his own cultural lineage and artistic pursuit. Complementing the finished artwork, the creative process of Mount Taibai (quadriptych) is also presented in the forms of original sketches and video documentations.
Series of artworks created at different stages map out visually Zhou's adventurous experience in the past forty years, constituting an oeuvre of dynamic energy and impressive imageries. The exhibition also displays sixteen major pieces by Zhou Chunya, drawn from the collection of Mr. Liu Yiqian and Ms. Wang Wei. It is the first time that these artworks are shown collectively, spanning the artist's multiple series since 1978: "Chongqing Series" (Chongqing, Wharf), "Tibet Series" (Shearing Wool, December, Zioge Grassland), "Mountain-stone Series" (Red Stone, Mountain-stones Series: Red Stone, Stone and Weeds, Stone Series), "Taihu Stone Series" (Taihu Stone), and "Peach Blossom Series" (Peach Blossom, Da Qiao and Xiao Qiao, Spring Peach), etc. The audience are invited to follow this retrospective and introspective journey of the artist to witness his over forty years of diligent efforts, and also to partake in the enthusiasm and joy of creating.
About the artist
Zhou Chunya was born in 1955 in Chongqing, China, currently lives and works in Shanghai and Chengdu. He studied print-making at Sichuan Academy of Fine Arts and graduated in 1982, after which he attended the school of arts at University of Kassel (Kunsthochschule Kassel) in Germany and graduated in 1988. As one of the leading figures among the Chinese contemporary art world, Zhou is considered to have excelled in his mastery of manipulating colors. During over four decades of creative practice, Zhou has been persistently challenging himself to seek for innovations and transformations, through various medium such as oil painting, sketch, sculpture, etc. Housed in major collections worldwide, his artworks have been displayed in numerous international exhibitions.
Since the Stone Series which started in early 1990s, Zhou has imparted characteristics of Neo-Expressionism to the "Hills and Stones", a traditional subject matter for Chinese literati paintings, and eventually formed his personal artistic style. Around 2005, Zhou initiated his best-known Peach Blossom Series, which visually articulates the artist's fresh mentality and enthusiasm for life and art. Zhou's recent artworks display his consistent research and profound understanding of Chinese traditional culture. With "Life" as its rooted theme, Zhou's creative career continues to evolve and blossom.